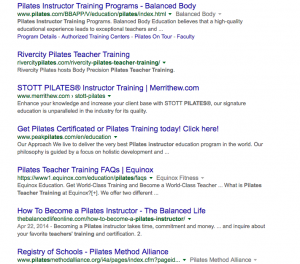 Like many fitness fads, if you google Pilates teacher training you'll find hundreds of options.  You can find online courses, 2 hour courses and programs that take a year or more!!  If you are considering wanting to teach Pilates you might wonder what the difference is and how do you find a program right for you?  P.S. – Many of these programs claim to "certify" you but don't be fooled!  Here's a few facts about Pilates teacher training you should know:
There aren't a lot of "rules" in the fitness industry as far as certifications.  Pretty much anyone can take a 3 hour course, print off a certification and can claim to teach Pilates. I can tell you from having experience in the gym and fitness world that most people hiring Pilates instructors at the gym don't have a clue what the Pilates Method is or if you have legitimate training as a teacher.  This is great news for those who don't want to spend a lot of money, simply want to be able to say they are a Pilates teacher and have no desire to actually have a Pilates practice and teach the method to others.  Unfortunately it's often these teachers who give Pilates a bad name and turn off clients because they get injured or simply can't do it because it's too hard (ie the teacher doesn't know how to teach it to their body!)
I'm assuming you are not one of the above people and you are one of the people who wants to have an in depth learning experience about how to use the Pilates Method and movement itself to help others empower their body.  This is why you should consider training with a PMA certified instructor in a training program that is approved by the PMA and allows you to work toward PMA certification.  The PMA Pilates Certification Program offers the only third party certification in the Pilates field and is truly the gold standard of Pilates teacher training.  To learn more about PMA approved programs and the importance of getting certified check out the Pilates Method Alliance website.  To learn more about Body Precision Pilates teacher training programs offered at Rivercity Pilates contact us today to set up a complimentary consultation time to learn more!!