You might be surprised to know that often times trainees in our Pilates teacher training programs travel as far as 3 or more hours just to get to our studio for training.  Pilates is still growing and building in the midwest and there are not a lot of Pilates teacher training programs offered in Iowa.  Did you know that Carey Sadler, director of the Body Precision Teacher Training program at Rivercity Pilates is one of only 5 certified Pilates instructors in the state of Iowa?  Rivercity Pilates offers one of the few comprehensive Pilates teacher training programs in the state.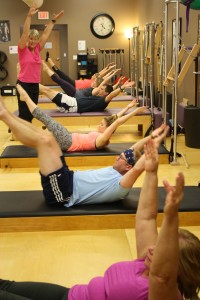 The Body Precision comprehensive training program allows participants to work through training modules and eventually be eligible to sit for the national certifying exam offered by the Pilates Method Alliance.  If you are considering Pilates teacher training you'll want to make sure your check out the Pilates Method Alliance website
and learn about the certifying process as this is considered the gold standard in the Pilates world.
The Pilates teacher training programs are a mix of in studio workshop time, trainees taking their own lessons and classes, trainees getting in observation hours of experienced teachers and trainees practice teaching. Workshop hours are always held on the weekends and the rest of the hours can truly be customized to your schedule.  Often times we will work with trainees who are traveling to the studio to help them plan training days where they can come over and get in a private lesson or a class and also stay and get in observation hours before and after their session in order to maximize their time.  Technology is advanced enough these days that we also can use a live video stream to let trainees get observation hours in from a distance. Practice teaching hours do not need to be done at the studio and can really be completed somewhere close and convenient to you.
If you are contemplating learning to teach Pilates but have not done it because of access to a training program in your area please reconsider and give us a call.  We would love to talk to you about how you can fit our program into your schedule and into your life!!