My favorite workout this week has a little story behind it! My story starts with Shelley, one of the trainees in our Comprehensive Teacher Training Program coming in for her private lesson.  When I asked Shelley how her body felt and if there was anything in particular she wanted to work on she said she was hoping to do Reformer as she had just watched a couple of Amy Taylor Alpers' classes on Pilates Anytime and really had some "aha" moments!  I was asking her about what she watched and we excitedly talked for a a few minutes ( OK..maybe 7 or 8 minutes because as Pilates instructors this is exciting stuff….).
We talked about some of the ideas Amy was incorporating, how she taught certain exercises and how it changed how Shelley saw certain exercises.  One of the key ideas that Shelley was talking about was an idea I'll call  "standing in your feet" throughout all the exercises.  Shelley kept saying," I know you've told me these things, but for whatever reason how she said it just clicked!".  This is one of the many reasons you should try to take lessons at least occasionally with different instructors: we learn different things from different teachers and sometimes just hearing something a different way helps ideas or movements make more sense in your body!!
Our conversation made it easy for me as an instructor to decide what Shelley would be doing that day in her session with me.  I had Shelley do an intermediate Reformer workout (one she knew well as far as order of exercises) and we focused on "standing in her feet"!  I took the idea that she had been introduced to and tried to incorporate it into every exercise she did and really incorporate it into her body.  Needless to say our focus and my cues and interpretation of this idea really changed how Shelley was thinking about each exercise and made her fine tune each exercise in a way that she hadn't done before(aka- everything was more work!).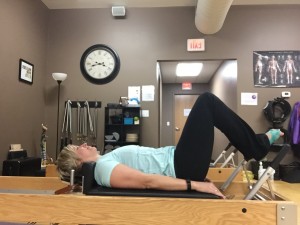 It just so happened that the very same evening Shelley and I were both at the studio and I ended up having an unexpected break due to a cancellation and Shelley did too as she was supposed to observe that session.  So I told Shelley it was a sign that I should work out (and she should teach me!).  I told her we could do some Reformer and she could be as picky as she wanted with me! So I did a intermediate Reformer workout and Shelley taught me giving me lots of cues about "standing in my feet" and just fine tuning my alignment.  It was a great workout that had me, just like Shelley earlier that day, working harder and moving better just from changing how I was thinking about each exercise.
If you practice Pilates or are a Pilates instructor and are unfamiliar with Pilates Anytime– you should check it out!  For a very small monthly fee (like what you would pay to take one Pilates class!)  you'll have online access to hundreds of amazing classes, workshops, and tutorials with some of the best instructors in the world.  One of the things I love about my Pilates practice is that it is always evolving and it's a continuous process of learning and incorporating things into my body. Every teacher that I have taken classes, sessions, workshops or continuing education classes from contributes to the evolution of my understanding of movement and the Pilates Method in my body and my teaching.   The video classes and workshops on Pilates Anytime allow me to learn from incredible instructors that I wouldn't normally get to take sessions or classes with on a regular basis.
As a teacher of Pilates instructors I encourage all my trainees to use Pilates Anytime as well.  Our trainees have to get in quite a few observation hours as part of their training process and we allow some of those hours to come from watching classes and workshops on Pilates Anytime.  Although very different from observing a live session I do think it is so important for trainees to get exposed to different teachers and different teaching styles to help them learn things best in their body as well as learn how to teach it to others.  When you are in small town Iowa there aren't a ton of options for finding multiple instructors to observe, so I really find Pilates Anytime an invaluable tool for training future Pilates instructors.
Are you a Pilates instructor or practitioner who watches Pilates Anytime?  I would love to hear about some of your favorite classes and what you've watched lately!!