Cancer changes your life in more ways than you can probably begin to explain. Besides the physical limitations and changes that occur in your body, there are also changes in how you move, how you think, and how you look at life.
The Pilates method of exercise embraces the needs of the individual and helps you find safe and effective ways to keep your body healthy along with reducing stress.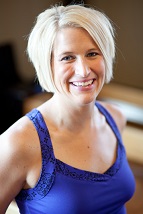 "Exercise is not just a chore that we should do. Movement (or exercise) is part of everything we do in life. How we move, strengthen, stretch, and balance our bodies affects our daily life and our happiness. "  ~Carey Sadler 
Some of the wonderful benefits of Pilates for cancer survivors:
Helps regain strength and mobility in all your joints and muscles

Enhances energy levels

Improves self confidence and control

Reduces feelings of depression

Decreases stress and tension

Enhances physical and mental well-being
Our Pink Ribbon Starter Package is a month-long program. It includes two private sessions weekly (eight sessions total), with Pink Ribbon Certified Instructor Carey Sadler.  Participants will also receive a personalized, at-home workout they can use to supplement their in-studio sessions.  This package normally valued at $504 can be purchased as a new client for $400.
This package is designed for cancer survivors who are looking to explore the Pilates method of exercise as a way of strengthening their body, mind, and spirit. Carey will help you discover the joy of movement as you learn to appreciate the wonderful body you have and all of its amazing capabilities.
Do you know a cancer survivor who would benefit from adding Pilates to their life?  In honor of Breast Cancer Awareness month we are giving away a Pink Ribbon Starter Package in October!  Click

here

to read the details and learn how to nominate someone you know or yourself!