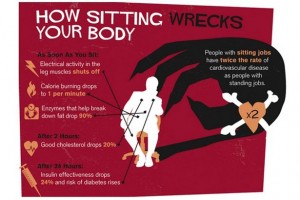 There has been a lot of research out lately that says," Sitting is the New Smoking".  Sitting for long periods throughout your days  can:
cause musculature pain problems in your back and neck,
put unnecessary pressure on the discs in your spine,
sitting can compress nerves and blood vessels and your body is often not getting the oxygen it needs to function at it's full capacity
Long periods of sitting have also been linked to certain cancers, heart disease, and diabetes.  Rivercity Pilates owner Carey Sadler was invited to KGAN Channel 2 and Fox 28 to talk about things each of you can do to prevent the chronic ailments that result from extended sitting.  See those clips by clicking on the links below.
Below you will find, a video a day to help you incorporate the Pilates Principles into your office or work day.   Sitting, standing, driving in the car, even riding on an airplane, we'll cover them all!   Share this page with all your friends who work in an office!
One of our favorite things when it comes to sitting is the new Lumo Lift Sensor!! You slouch – it vibrates!!! Be sure to read Carey's blogs about her experience with the Lumo Lift!!
Sitting is the New Smoking! Track Your Sitting Behavior, Posture, Steps, and More with the LUMO Lift Posture and Activity Coach!