By: Shelley Oglesby, Rivercity Pilates Pilates Mat Teacher Trainee
April 9, 2016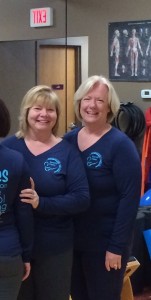 I just finished my first week of teaching my practice clients in the Pilates Mat Teacher Training Program at Rivercity Pilates. Before my first session I was nervous, I couldn't sleep as I was trying to go through everything in my mind that I wanted to cover with each client. My heart was racing as the time approached for my very first private Pilates teaching experience! I was honestly questioning myself about getting into this teaching Pilates thing. The anticipation was scary! I was trying to get myself calmed down and tell myself…I know these women, they are my friends, you'll do fine, what's the big deal?, etc. etc.… One of the other teacher trainees told me it's like ripping off a Band-Aid; you just have to do it!
Yes! It was true. A big sigh of relief after my first client and it went really well! The Band-Aid was off. I thought during and after that first session that as I was teaching, explaining, encouraging, and demonstrating, that, hey, it's not about me…it's about the client!
So, I'm starting to feel better and go on to teach my second, third, and fourth private Pilates sessions in one week. I love the feedback I'm getting from these terrific clients and their honesty and hard work! And guess what?
It's starting to get kind of fun!!
Here's an example of a message I got from a client after I checked in with her two days after her session: "I feel great. I can really tell I worked the lower abs and feel it makes me aware of standing up straighter. Thank you!!"
Okay…This makes me smile!