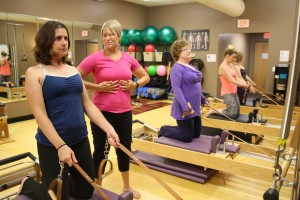 Have you ever wondered what the difference is between attending a Pilates or Yoga class at your local gym or attending a class at a studio like Rivercity Pilates?
Yes, if you look, you'll likely find that a class at a studio like Rivercity Pilates will cost you more. But, with that said, you really get what you pay for. And if you're like me, investing in your health is worth the few extra dollars.
After I've personally taken Pilates classes at a local gym and at Rivercity Pilates, here are a few of the key differences I've found:
Class size– At a local gym it's likely that you will be packed in a room of 15-20 people. At a specialized studio like Rivercity Pilates, classes are limited in size. 6 people max for an equipment class, and 10 or so max for a mat class. This means you receive more feedback and the exercises are adjusted and modified to those attending the class.
Attention– At Rivercity Pilates, each client has a chart where instructors make notes after each class or session. This means that before each class starts, the instructor pulls all client's charts and creates a class that is customizable to those attending. Before beginning your first class, you also are asked to fill out a questionnaire so that the staff at the studio can get to know you and your body better before even beginning.
Atmosphere– Rivercity Pilates has an atmosphere that you won't find at your local gym. When you walk in the door each time you feel welcomed and are always greeted right away. The studio is relaxing, cozy, and feels like home. It isn't over populated, smelly (you know what I mean!), or intimidating. Because classes are smaller, clients and instructors all get to know one another better.
Knowledge– Instructors at Rivercity Pilates have gone through the comprehensive  training programs which requires hours and hours of observation, practice teaching, attending workshops, and working on their own practice. These instructors did not earn their certification to teach from the computer, nor did they do so in a one day class. They are passionate enough about mindful movement to have dedicated lots of time to learning it inside an out. Therefore- when you attend a class or private session, you are working with a highly certified and passionate instructor who is able to create a safe and effective workout for you no matter your health, size, shape, or weight. You won't find that in a large gym class where classes are often taught in a "one size fits all" style.
Those are a few of the many differences you will find with Rivercity Pilates small group classes. So, are you really getting the best deal by saving few dollars at your local gym's Pilates class? In my experience, no. I prefer to invest in my health and receive all of the benefits that a smaller specialized studio has to offer!
Sign up for a free complimentary class at the studio and see the difference for yourself!
Kelly