If you are looking for a weekly class schedule,  Click Here!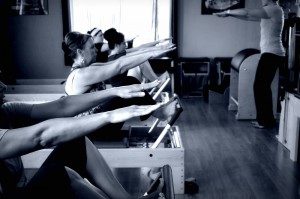 Our Group classes are small so we do suggest signing up ahead of time if you have a chance!  Drop ins are welcome as long as there is space in class!
Pilates Mat, Yoga, and Barre Classes are limited to 10 participants maximum.  Pilates Tower classes are limited to 6 participants and Pilates Reformer classes are limited to 4 participants.  
Rates
Single Mat/Yoga/Barre/Strength Training/Cardio/Meal Planning  Class $18
Single Equipment Class $36
Group class cards can be used for Pilates mat classes, Yoga classes, Barre classes, strength training classes, wellness classes and Pilates equipment classes.  Pilates Equipment classes use 2 credits and all other classes use 1 class credit.  Class cards are good for 6 months past the purchase date.
5 class credits                     $75  ($15/class credit)
10 class credits                 $140   ($14/class credit)
20 class credit                   $260 ($13/class credit)
30 class credits                  $360 ($12/class credits)
Make a commitment to your health and save money!
Ask about our monthly class options and save big on class prices!!  Monthly Members receive priority scheduling, a free health coaching session, discounts on studio workshops, discounts on retail purchases and more!!!