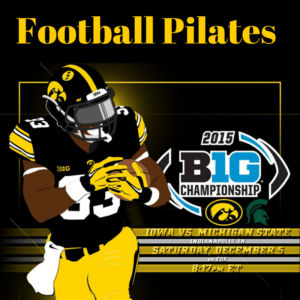 It's Saturday and if you live in Iowa (or ever have) you're probably making plans to watch our beloved Hawkeyes in the Big Ten Championship game this evening as they try to uphold their 12-0 record. Since most of you won't be at the office today we decided to devote today's Office Pilates blog to a Hawkeye Football Game Time Workout! Prolonged sitting doesn't just happen at work. Being camped on your couch or favorite chair for hours at a time can add to the effects of your weekly sitting.
We hope you'll have some fun with this one and include the family and friends.  Heck you could even throw in some motivational drinks or make up your own exercises!! Snap a picture of you and your friends and family getting active during the game and tag Rivercity Pilates on social media to be put in our drawing for a 5 credit class card!
When you see this…………….
Do this………………….
Hawkeyes Swarm & Enter The Stadium
Stand up and cheer (stomping your feet and clapping will really energize your body!)

You hear the
Iowa Fight Song

Stand up, March, Clap and Sing!
First Hawkeye Touchdown
Stand up and cheer and then roll down through your spine and do a Pilates push up!
First Michigan St Touchdown
Do your Pilates Hundreds
Wouldn't it be nice if you didn't have to do them?
Any Iowa Hawkeye Touchdown
Show us your best Hawkeye Teaser
Post a picture on Facebook or Instagram to win a prize!!  We want to see A LOT of Teasers!
Any Michigan St Touchdown
Stomach Series 5 (You're miserable anyway you might as well strengthen your abs with this challenging series of 5!)
Any Iowa Hawkeye field goal
 Stand up and Run in place (or just stomp your feet!).  Clap and Be Happy!
Any Michigan St field goal
10 Squats– Work off your anger and strengthen your legs and butt!
Timeout
Hold a plank for 30 seconds (or you could overachieve and hold it until the timeout is over!)
You get mad at the announcers because they clearly think Michigan St will win.
Just Breathe!  Use your Pilates breathe to calm your nerves!
Fumble by Spartans
Use your favorite chair or the coffee table to do 10 Tricep Dips (You'll need strong arms to give high fives for the next Hawkeye touchdown!)
TV shows Coach Ferentz chewing bubble gum
Spine Twist (This one feels great and you can do it sitting in a chair!)
CJ Beathard Touchdown Pass
 5 Shoulder Bridges (This exercise feels wonderful on your back- a great celebration exercise!)
Hawkeyes Intercept a Spartan Pass!
5 Pilates Roll ups (Good to have your spine limber and stretched for when you need to jump up and celebrate a Hawkeye score!)
Official Review of a on the field call!
 Rolling Like a Ball (only recommended on a soft cushiony surface….if you don't have a good surface go refill your drink and grab a snack!)
 Hawkeyes Win!
 Do a little Dance! This is one of our studio favorites but any dance will do!