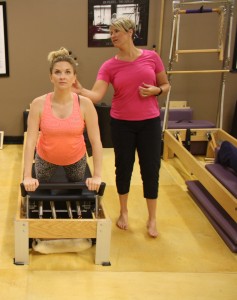 A few weeks ago, Rivercity Pilates studio owner and instructor Carey Sadler wrote a blog that talked about the comments many of her students will say as they progress in their Pilates practice and begin to know Carey better. Janee (RCP Instructor and I) decided to write a blog about a few of our favorite "Carey Sayings" and here they are:
"This is going to be 'fun'"! How many of us, over the weeks, months, or in my case, years, have heard Carey say, "This is going to be fun!" And then..well…it's tough to describe just how FUN it really is! It may be a new exercise that's a level tougher or it may be more reps of one exercise or it may be using a prop that makes it even tougher. Carey's idea of fun is helping her students deepen their Pilates practice and accomplish exercises they might not believe they can do! -Janee
"Does that hurt? Or is it just work?" Carey's pretty good at reading facial expressions so whether you say something or not, she can usually tell how you and your body feels about an exercise as you're moving through it which often results in the above questions. This also goes to show how much she pays attention to you and your body and works to make your workout as effective and safe as possible. -Kelly
"How's the body feeling today?" I actually have always been grateful Carey asks that question. During my work week there always seemed to be some part of me that was sore or strained. I know she consciously tailored that lesson for me that day. She would try to readjust an exercise or exercises to help open up my tight hip flexors or hamstrings. Even though some of them didn't always feel the greatest at the moment, those certain adjustments made a huge difference later. -Janee
"Just Try!" If you're a client of Carey's you've likely heard those two words before. Especially in a private session when Carey asks you to do something that you believe you can't do…or maybe you secretly are just trying to get out of doing. Here's the thing though, Carey is a highly trained instructor who is pretty good at knowing what your body can safely do…. whether you believe it can or not. -Kelly
Instilling the attitude to "leave work at the door of the studio" is one I have learned from Carey. We only get 50 minutes in a class or private lesson to really focus on OURSELF! So…instead of trying to remember our grocery list for later, our work for the night, or what our kids may need…how about let our mind just focus on our body..our good breathing, and the time in the studio…BE present…she has taught me that…and THAT is an attitude I always try to bring with me in the door when I am there to take a class or teach. -Janee
"1 more." While we all love Carey, many of us as her students have learned how to distract her during a session or class. That often results in her losing count at how many repetitions we've done and so often when you distract her, you end up doing "1 more." -Kelly
The intake form for the studio has a line or two about 'not eating much' before you come to a class. Well…pretty sure I am a great example of not following that rule and pretty sure a few others have learned WHY Carey has that on the form. After eating a 'quesadilla explosion' salad once at Chili's for a late lunch and then coming to an intermediate mat class, I am pretty certain that I was not enjoying my rolling exercises or stomach series that much that day. Too much of anything prior to class (other than water) may not be the best addition to anyone else's participants in a mat or equipment class! I have learned my lesson! -Janee
"And you're all done." Some days, you just can't wait to hear these famous ending words from Carey. Not every day is as easy as others, not only in the work you do at the studio, but in motivating yourself to come to the studio.   -Kelly
So if you're thinking about signing up for your free complimentary private session or class with Carey, you'll likely hear the above phrases or learn the above lessons at least once or twice! But, believe us, when we say that your experience working with Carey will be FUN, we sincerely mean it!
Carey's personal interest in each person, her passion for Pilates, and her adaptability for each and every one of us, have made the studio not only a place to get fit but a place to fit in. It is a place open to all and an environment that feels like a second home to so many. Carey, we appreciate you and your dedication and passion to enriching the lives of others through teaching mindful movement. Thank you!
If you are a current or a previous student of Carey's, we'd love to hear what famous Carey phrases have stuck with you!