As healthcare and healing modalities continue to evolve, Yoga is quickly becoming an intricate part of health and wellness programs because of it's ability to promote health and healing at all levels:  physical, emotional and spiritual.   Check out these Top 10 reasons to begin a Yoga Practice at Rivercity Pilates!    We have private or small group training sessions available for Yoga.    We have just added morning classes which are very suitable for Yoga Newbies!    We also have evening yoga classes!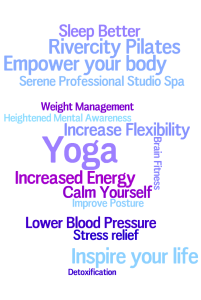 10 Reasons to Practice Yoga!
1.  Stress relief
2.  Inner Peace, Calm and Authentic Happiness
3.  Increased Strength, Physical Conditioning and a Beautiful Posture
4.  Weight Loss and Weight Management
5.  Increased Overall Energy
6.  Improved Sleep
7.  Heightened Mental and Intuitive Awareness.
8.  Improved Hormonal balance (especially in cases of breast cancer, infertility and prenatal conditioning)
9.  Brain Synchronization and Brain Fitness
10.  Whole Body Detoxification
Beginning a new movement program can be overwhelming.    We encourage you to take advantage of our complimentary first session to become familiar with Rivercity Pilates, and meet with your instructor.   You can schedule your complimentary first session on our website, or you can call 319-665-2499 and we will do the computer work for you!    We hope to hear from you soon!